Tony Sent Us a review on the 9th of April 2020 Saying: " Awesome guys!! the DFY leads program was a surprise i must say , the Autoresponder system is pretty cool, it verifies all leads, clean them, remove bad ones or high risk ones … extra, so u know u are emailing good leads!!! superb really guys … i had 14% open rate and 5% Clicks and less than 1% unsubscribe !! from first email blast , i have 29 days left to get the most out this. if u want a quick list building boost/startup this is the one for you… " ( You can see Verified Review Below).

So We asked him to help us in a quick case Study… Here's the Details:
Tony Purchased The 2000 Bizop Leads Package Above. with the Autoresponder Option.
Let's Now Break Down the Numbers:
First Email Break Down:
2000 Leads
99.98% Delivery
14% Open Rate
5% Click Rate
Today when we contacted Tony For this case Study, Tony Sent His 4th Email :
1956 Leads
100% Delivery
17.02% Open Rate
11.06% Click Rate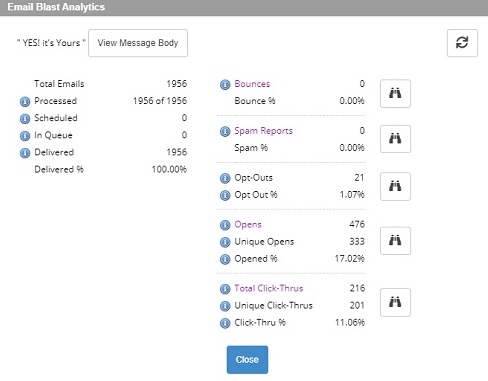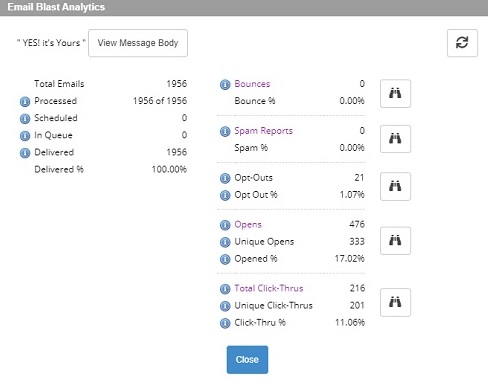 Total Clicks Tony has Accumulated on his leads package is :
722 Clicks, How many sales? 7 Sales So Far… in 4 Email Blasts.
26 days left in his free Autoresponder and page Builder, things looking pretty Good 🙂 … And Tony has placed his second order already!
Q&A:
So what do you get with your Leads Package :
A Downloadable .CSV File Sent to you
Can be used in Any Autoresponder (Or Choose To Import it into our Autoresponder).
Fields Included: Name, Email, Street Address, City, State, Zip, Date Stamp, IP Address, Time Zone.
The Real Time USA Bizop Leads Are Strictly Sold only To You (the buyer) so they dont get abused and spammed.
The Real Time USA Bizop Leads in this package are Single Optin leads.
Delivery:
The Real Time USA Bizop Leads are collected & Delivered After 96 Business Hours (4 Business Days) of your order (standard Option).
Autoresponder (30 Days Full Access):
Get You Leads Loaded into our 3rd party Complimentary Autoresponder, Get Full Access Free for 30 Days (No Credit Card or any payment required unless you decide to keep using the Account it's $79/Month), 350k Credits to use in 30 days. We will send you your own Log in details Along with the CSV File.
Autoresponder Features:
* Build & host landing pages * Email Autoresponders & Broadcaster * Toll Free Voicemail Hotlines & More
So Are You selling leads, isn't that spamming ?
NO, We are not selling Leads to Different ppl. We are Collecting Leads Live based on your offer, adding them to the Autoresponder and Validating the Emails, Cleaning the Bad ones and leaving the Good ones in the Autoresponder for you to start using.
Why Can't You just Send the Leads Directly to my Own existing Autoresponder ?
Good Question, and the answer is simple, we need to control the process and have the stats to back our sales process. if we send leads directly to a customer's optin form, it's easy for a customer to misunderstand the source of his leads, or intentionally say he didn't get his leads and this just creates too much unnecessary drama (and business loss for us). of course as we mentioned above, it could be an honest mistake or misunderstanding from the customer, or the customer in some cases just trying to take advantage of the us and get extra free leads. So to avoid all leads,